Guidelines on the IMO STCW Convention
This third edition has been fully updated to take account of the substantial amendments to the STCW Convention, governing seafarers' training, which were adopted by the IMO in June 2010. As well as technical developments, these changes to STCW include new training requirements for leadership and teaqmwork, enhanced refresher training for qualified seafarers, new competence standards for tanker personnel and for the new grade of Able Seafarer (Deck and Engine), and new requirements for maintaining records of ratings' training. The 2010 amendments also introduce major changes to IMO regulations concerning seafarers' minimum rest hours which will apply from 2012.

The revised ISF Guidelines should be read by anyone connected with the employment and training of merchant seafarers. They include detailed advice on company obligations and compliance with the amended Convention as well as information about the changes to STCW and when they come into effect.
Cena: 327.89 PLN (+16.39 PLN VAT)
ZAMÓW
Guidelines on the Application of the IMO International Safety Management (ISM) Code
Fourth Edition 2010 (ICS/ISF)
This fourth edition has been fully updated to take account of the latest IMO amendments and guidance, including those which will enter into force in July 2010, and supersedes the previous 1996 edition. It includes expanded guidance on Safety Management Systems, environmental Management, risk management, safety culture and the role of the Designated Person Ashore (DPA). The guidelines are aimed at operations managers, DPAs, Masters and ships' officers, and it is recommended that a copy of the guidelines is carried on board every ship. For ease of use, the new edition is accompanied by a CD which contains a searchable, electronic version of the text in addition to useful reference documents. These include a model Ship Energy Efficiency Management Plan to reduce fuel consumption and CO2 emissions.
Cena: 573.80 PLN (+28.69 PLN VAT)
ZAMÓW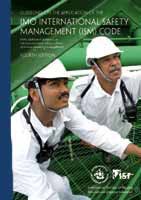 2010 Manpower Update on the Worldwide Supply of and Demand for Seafarers
The BIMCO/ISF Manpower Updates are regarded as the most comprehensive assessment of global supply of and demand for merchant seafarers. This new 2010 report builds on updates conducted in 1990, 1995, 2000 and 2005. It has two main purposes: to describe the current worldwide supply and demand situation for seafarers; and to make predictions about the likely position in 5-10 years time, to assist the industry anticipate changes and to take appropriate action.
Cena: 683.10 PLN (+34.16 PLN VAT)
ZAMÓW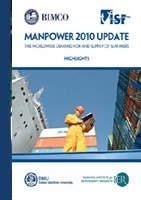 Shipping and the Environment - a code of practice
4th Edition 2008 (ICS) £25.00

This provides a concise but comprehensive summary of the environmental obligations of shipping companies as required by the international regulations, together with a set of clear environmental standards by which shipping companies should operate.The Code also contains general information about the overall environmental performance of the international shipping industry. It addresses potential sources of pollution from ships including oil, chemicals, garbage, ballast water and anti-fouling paints, as well as potential sources of atmospheric pollution and green house gas emissions.
Cena: 136.62 PLN (+6.83 PLN VAT)
ZAMÓW
Safe Transport of Containers by Sea
First Edition 2009 (ISC/WSC) £80.00
These new Guidelines have been published, in co-operation with the World Shipping Council, with a view to minimising the dangers to containerships, their crews, and all personnel involved with containers throughout the transport chain.They have been developed by an expert international industry working group in response to recent incidents involving containerships.The Guidelines recognise the safety responsibilities of ship operators, but also discuss the responsibilities of those involved with the correct packing and stuffing of the cargo into containers, the accurate labelling and declaration of the goods by cargo interests, and the weighing of loaded containers.In addition, they address the safe handling and stowage of containers when they are received by a port facility and are loaded on board a ship, and also cover the maintenance and inspection of the containers themselves.
Cena: 437.18 PLN (+21.86 PLN VAT)
ZAMÓW
Tanker Safety Guide (Liquefied Gas)
2nd Edition 1995 (ICS)

The indispensable operating manual for anyone engaged in the carriage of liquefied gases by sea. Provides detailed information on the characteristics of liquefied gases, precautions, hazards and emergency procedures. A series of appendices provide additional information, including chemical data sheets for all liquefied gases carried by sea.
Cena: 1366.20 PLN (+68.31 PLN VAT)
ZAMÓW
Tanker Safety Guide (Chemicals)
3rd Edition 2002 (ICS)

Takes full account of IMO developments and the most recent experience of operators with regard to industry best practice and safety advice.

It is hoped that this major work, condensed into a single volume and produced by ICS in co-operation with a broad cross section of chemical tanker operators, will promote safe working practices consistent with the very best international standards.
Cena: 1366.20 PLN (+68.31 PLN VAT)
ZAMÓW
Ship/Shore Safety Checklist for Bulk Carriers
2000 Edition (ICS)

Packs of IMO approved ship/shore safety checklists for use by ship and terminal operators, incorporating guidance on completion and an example loading/unloading plan. Development of the checklists has been supported by BIMCO, Intercargo and IAPH.
Cena: 163.94 PLN (+8.20 PLN VAT)
ZAMÓW
Stay Safe Accident Prevention Posters
Reissued Edition 2001 (ISF)

This set of 11 humorous posters, by the cartoonist Larry, emphasises the central issues at stake in preventing accidents on board and provides a comprehensive, year-long safety campaign.
Cena: 163.94 PLN (+8.20 PLN VAT)
ZAMÓW
ICS Model Ship Security Plan (With CD)
To assist shipping companies prepare Ship Security Plans that comply with the IMO International Ship and Port Facility Security Code.
1st edition 2003 (ICS)

The ISPS Code requires every ship to carry a flag state approved Ship Security Plan. To help companies demonstrate full compliance, ICS has produced a Model Ship Security Plan covering all relevant ISPS Code and SOLAS requirements. A CD version of the plan accompanies each copy, allowing companies to adapt it for individual ships and their own security needs.

The Model Plan includes:
* Guidance notes on each section of the Plan
* Restricted and Confidential sections as required by ISPS
* Model documentation for ship specific data including suggested measures in response to different Marsec levels
* Advice on Ship Security Officer duties, and details of training and drills to be undertaken by crew
* Guidance on procedures for responding to security breaches or threats, including maintenance of critical operations.
Cena: 491.83 PLN (+24.59 PLN VAT)
ZAMÓW