Passage Planning Guidelines 2nd Edition
This second edition of Passage Planning Guidelines has been completely rewritten, expanded and transformed with an emphasis on the Appraisal and Planning stages of voyage planning. Encapsulating the original, the guidelines now bring the publication fully up to date while ensuring that the established traditional principles and fundamentals are covered.
The 2nd edition contains an essential and comprehensive section on passage planning with ECDIS. An essential guide that aids the modern navigator through the appraisal and planning stages when using electronic charts.
In addition is an expanded set of appendices containing checklists for passage planning, parallel indexing, examples of passage planning notes and a plan pro-forma.
Printed and fully illustrated, this latest edition takes the principals of Captain Salmon's original text and delivers a new standard of guidelines for the modern bridge team.
ISBN: 9781856096092
WS1423K
Cena: 245.92 PLN (+12.30 PLN VAT)
ZAMÓW
Rule 10 TSS. Traffic Separation Schemes
The definitive guide to navigating and collision avoidance when sailing through a TSS, this book is a must for all deck officers when learning the application of Rule 10 of the Colregs.
ISBN: 978-1-85609-605-8
WS1405K
Cena: 191.27 PLN (+9.56 PLN VAT)
ZAMÓW
Passage Planning Guide - English Channel and Dover Strait 3rd Edition (2013)
Within areas such as the English Channel and Dover Straits an atmosphere of trepidation, based on an anticipation of perceived problems such as traffic, weather and navigational hazards, still exists. This 268pp book displays and details each leg of the passage with all the information required by the navigator.
The aim of this Passage Planning Guide is to provide a simple to understand tool to assist the bridge team in making a safe and controlled transit of the English Channel, Dover Strait and Southern North Sea.
The edition incorporates the latest changes to the traffic routeing schemes in North Hinder and the approaches to Rotterdam that enter into effect on 1st August 2013.
Ballast Water Management 5th Edition
Updated to MEPC 66 (April 2014)
Every day, on every ship at sea, millions of marine organisms are transported having been taken onboard when ballast water is loaded. The World Wildlife Fund has estimated that, every hour, about 7.5 M litres of ballast water is released into US waters alone, and 10 Bn litres of ballast water a year is transferred round the world.
In February 2004, the International Convention for the Control and Management of Ships' Ballast Water and Sediments was adopted.
This 5th Edition of the WPG Guide to Ballast Water Management provides an up to date guide to the treatment options available and details all systems with either Basic or Final approval from IMO or with Type Approval from a certifying body.

Passage Planning Guide – Malacca and Singapore Straits 2013 Edition
This 2013 edition of the Passage Planning Guide, Malacca and Singapore Straits has been extensively revised, attractively redesigned and fully updated to incorporate new guidance and practical advice for ships transiting the area. Based on the experience of shipmasters transiting the Straits, navigators will benefit from the clear and logical advice and intuitive format which complements traditional passage planning techniques and modern electronic chart navigation.

Ship Automation for Marine Engineers and ETOs
Ship Automation for engineers & ETOs is a long overdue reference guide for all aspiring and qualified engineers within the shipping industry. This book provides an ideal instructional and technical resource for any engineer or ETO requiring a practical working knowledge and understanding of today's modern vessels.

Cena: 524.62 PLN (+26.23 PLN VAT)
ZAMÓW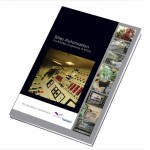 Marine Survival. 3rd Edition
This 2011 revised text and features contained in this book relate to the 1974 SOLAS Convention, the 1978 SOLAS Protocol, and subsequent amendments in force.
The text relates substantially to the Merchant Shipping (Life Saving Appliances) Regulations and the respective amendments until 1996. The regulations apply to ships registered in the United Kingdom, wherever they may be, and to other ships while within any port in the UK or territorial waters
Author: David House

Format: Full Colour, Hardback
ISBN: 9781856093552
Cena: 284.17 PLN (+14.21 PLN VAT)
ZAMÓW
Shipboard Safety Officer Notes
This book provides a clear and 'no-nonsense' guide to the responsibilities of the Safety Officer and will focus on what you need to know to perform this position and help you in developing a good safety culture onboard. It will discuss how to approach the tasks that you will be presented with, what they might mean and some of the implications or actions that may result from them.
Cena: 196.73 PLN (+9.84 PLN VAT)
ZAMÓW
The Complete Chief Officer
This book is for the young officer aspiring to the position of Chief Officer, or one who has recently been promoted into the position. It is a practical book dealing in the 'real world' of the sea and ships rather than the theoretical, and it discusses the various problems that can be encountered as the Mate of a ship.
Cena: 191.27 PLN (+9.56 PLN VAT)
ZAMÓW
The Ice Navigation Manual
Trade in ice covered waters continues to grow, and increasingly, operators looking for future flexibility are building ships classed for operations in ice.